Prep
My school is Castle Park, a place where I can grow and develop as our school motto says into a person with a sound mind and a healthy body
Castle Park is a vibrant and happy school that challenges us to do our best
Our founder Mr W P Toone established Castle Park School here in Dalkey, Co Dublin in 1904 and, from the outset, adopted our motto: "Mens Sana in Corpore Sano" (a sound mind in a healthy body). To this day this fundamental principle guides our broadly based educational provision, which is offered in conjunction with an extensive programme of extra-curricular activities.  We provide all of our pupils with rigorous opportunities in the core subjects and combine this with rich and varied experience in sport, science, languages and technology, performing and visual arts.  ICT is blended into teaching and learning in all subjects.  More than 115 years on we still enjoy the beautiful setting of our school and its expansive grounds but through the intervening years there have many improvements to our amenities.  The redevelopment of the entire site (envisaged in our Centenary Development Plan in 2004) and was brought to fruition in 2008 when we moved into the current and truly exceptional purpose-built teaching environment.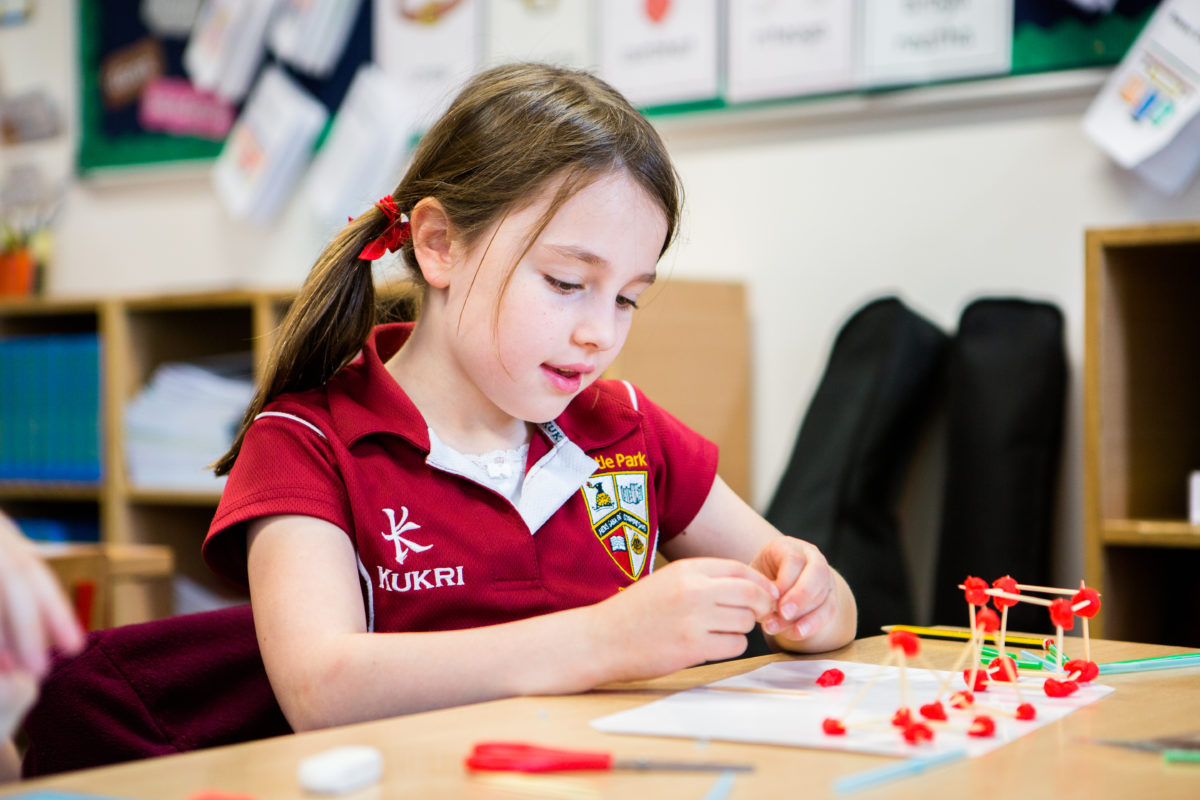 Curriculum and Learning
We learn how to learn in a safe environment that welcomes and includes everyone
My school has given me a love for learning and a positive attitude for life
My teachers and peers help me to learn from my mistakes and to make wise choices
The unique aspect of education in Castle Park is not its glorious location and its wide-ranging and modern facilities but its approach to teaching and learning.  In a traditional primary school, the pupils have the same teacher for virtually all subjects and may have a huge transition to make when they move to secondary school where they have a different teacher for each subject.  In Castle Park, we introduce specialist teachers from a young age.  This approach has two distinct advantages for teachers and pupils alike: firstly, specialist staff in art, music, languages, science, ICT and sport are "expert" in their field and have a passion for their subject area, which has led them to take their study all the way to Degree or even Masters level qualifications.  Secondly, with several subjects being covered by specialist staff, the range of subjects that the Form Teacher is responsible for is limited to the core areas so that they can bring focus, rigour and high expectations to English, Irish, maths, history, social studies and RE.  Our system of pastoral care provides an ethos that supports yet challenges each pupil to reach their potential. Having their class for over half of the timetabled lessons every week, our Form Teachers get to know their pupils really well.  Pupils all-round development is further enhanced and underpinned by our ground-breaking Social and Emotional Aspects of Learning (SEAL) curriculum that, not only fosters personal growth and development but also helps pupils deal with social and emotional matters that will inevitably arise during these formative years. Our overarching goal is to provide opportunities in the curriculum and in our daily activities which will enable each child to become resilient and confident ready to move onto the secondary school of their choice.
Facilities and Opportunities
I am offered a broad range of opportunities in a wonderful environment that allows me to discover what I love
Every day here is an exploration, an adventure where we learn to work beyond our comfort zones
Our pupils benefit from truly exceptional facilities including an Olympic size sports hall, a 25m indoor swimming pool, an Astroturf pitch, a science laboratory, a music room (supplemented by several practice rooms for individual peripatetic instrumental lessons), a modern ICT suite with, drones, animation and video facilities including a fully equipped robotics centre, library with facilities for collaborative learning in pairs and small groups, an extensive art and design studio,  languages room and a multi-purpose Assembly Hall that is also used as a dining room and public performance area.  New playgrounds have recently been opened and we are continuing to develop areas such as our Forest School resources which help to reinforce the growing importance of environmental issues.
Other features that enhance education at Castle Park include exceptional healthy lunches, at least three outings to places of educational interest every year, residential trips for older pupils, multiple public performances in concerts, plays and musicals, daily Day Care from 8 am to 6.30 pm as well as a programme of over 40 activities included in the fees, a long-standing house system that bridges the gap between a class of 24 and a school of nearly 400 pupils, as well as competitions in sports, debating, music and other activities) that allow those with interest and talent further opportunities to flourish.
Preparing for the Future
Being valued for who I am motivates and empowers me to be confident about my ever-changing future
Our teachers nurture our leadership skills as we move through the school
Our aim is to prepare pupils for a fast-moving and rapidly changing world and we focus on developing an appropriate range of learning habits to equip all pupils to become independent, resilient thinkers.  At Castle Park we strive to be at the forefront of education provision in the junior school sector, preparing our pupils to have the knowledge, skills and dispositions to cope with the seemingly unstoppable forces of ceaseless change and major issues such as digitisation, globalisation, urbanisation and, of course, environmental awareness that is the concern of our time. We emphasise the shift taking place in learning away from "what" is taught to "how" something is taught so that our pupils are prepared for lifelong learning in multiple settings when, as well as developing knowledge, they will embrace adaptability, flexibility and a range of portable skills including the critical ability to collaborate. Technology is an increasing part of all of our lives and while we use it to assist all pupils with learning, we also dedicate quite a bit of time to teaching children to use this wonderful resource safely.
Building on Our Success
We are encouraged to cooperate, to be courteous and compassionate
Experienced teachers inspire us all to understand the world around us and to think for ourselves
Tradition, custom and practice together with an open-minded approach towards the novel and innovative are important elements in our mindset for success.  Change is a never-ending feature of modern life in general, and in education in particular, and here at Castle Park we embrace the challenge of maintaining the reassurance of stability for our pupils whilst continuing to offer a unique, innovative and continually evolving curriculum in a warm environment where each pupil is valued and respected, and we require them to do likewise with their peers.  The community spirit in Castle Park is one of its most compelling and essential qualities on which everything else is founded.