Fostering Creativity at our Private Primary School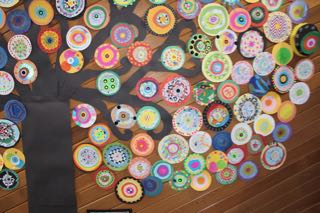 Experience a Vibrant Artistic Community at Castle Park School
Castle Park School is a private primary school located in Co. Dublin. We focus on creating a vibrant and nurturing learning environment for our pupils. Our commitment to fostering creativity is evident in "The Street," our main entrance area where parents and invited visitors can see stunning art displays.
The year begins with a burst of colour.
Our pupils participated in an art project at the beginning of the year. They created colourful "leaves" inspired by Wassily Kandinsky. These leaves were used to build a giant tree displayed in The Street. The tree represents unity and growth within our school community and showcases our students' artistic talents.
We want to acknowledge our Head of Art & Design.
Ms O'Neill, our Head of Art & Design, deserves a special thank you for leading this fantastic initiative. She is passionate about artistic expression and dedicated to enriching our pupils' opportunities. Under her guidance, our students have flourished artistically and are excited for a year of colourful creations.
This year promises to be filled with vibrant colours and creative moments.
Through diverse art projects and activities at Castle Park School, we empower our pupils to think creatively, explore their imaginations, and communicate confidently.
"The Street" provides a glimpse into our artistic heritage.
Upon entering Castle Park School, parents and visitors are welcomed by art displays in "The Street." This area functions as a gallery, showcasing the artistic achievements of our students with vibrant paintings and intricate sculptures that continuously change to reflect the growth and creativity within our school community.
What are the reasons for choosing Castle Park School?
At Castle Park School, we aim to provide an educational experience beyond the traditional classroom setting. Our commitment to fostering creativity encourages pupils to develop their artistic abilities and cultivates essential skills such as problem-solving, critical thinking, and self-expression. Choosing the right private primary school for your child is important, and we strive to meet your educational needs.
Castle Park School offers a comprehensive education with a strong focus on art, a dedicated faculty, a specialised teacher, various extracurricular activities, and a supportive community. We aim to help every child reach their full potential and prepare them for future success.
Become a member of our diverse school community.
If you're searching for a private primary school in Co. Dublin that values creativity and encourages self-expression, consider Castle Park School. Come see "The Street" and experience our vibrant artistic community.
Contact us to learn about admissions and discover our colourful learning environment for your child's holistic development.
Keep up to date with everything that's happening at Castle Park by following our Instagram Page and keeping up with our Weekly Note & Reminders Newsletters