Nutrition Workshops with Céline Schmutz
Nutrition Workshops
At Castle Park School, a fee-paid primary school offering exceptional education and holistic development, we are dedicated to promoting healthy eating habits among our pupils. 
In the Summer Term, we introduced Nutrition Workshops led by Céline Schmutz, a knowledgeable nutritionist, to support this goal.
Céline's interest in nutrition started when she wanted to help her children make healthy food choices. She is committed to teaching the same values to primary school children.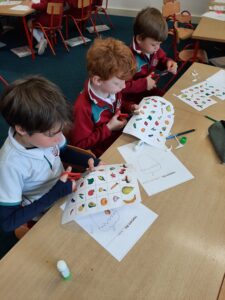 Céline teaches workshops on nutrition and well-being. She covers various topics in these workshops. One important lesson is understanding why we eat. Food is necessary for survival and growth. It gives us the energy we need to thrive.
During the workshops, Céline highlights the four essential components for maintaining good health: sleep, water, exercise, and healthy food. By adequately balancing and distributing these elements, we can unlock our full potential and live a fulfilling life.
During the discussion, Céline provided the children with practical and age-appropriate information on the different nutrients in various foods and how they contribute to overall health, aligning with our fee-paid primary school's commitment to a well-rounded education. This knowledge will enable our children to make informed food choices.
my plate

What differentiates these workshops is the high level of engagement from our pupils. Céline actively encourages the children to ask questions and share their thoughts, fostering a dynamic and interactive learning environment—a hallmark of our fee-paid primary school.
We were pleased to see such enthusiasm and curiosity in our pupils.
During the later sessions, the groups explored important subjects, including food groups and the components of a well-balanced meal.
Through fun activities and interactive discussions, we aim to help our Prep pupils understand the importance of eating healthy and making smart food choices, which is an essential part of the education we offer as a fee-paid primary school.
If you have any enquiries, don't hesitate to contact Céline at cligne.nutrition@gmail.com. She is available to offer further assistance and guidance.
To find out more about events and activities happening at our school keep an eye on our Instagram Social Feed HERE 
Helpful Link: