Open Morning, Thursday 4th May 2023
Join us for our Open Morning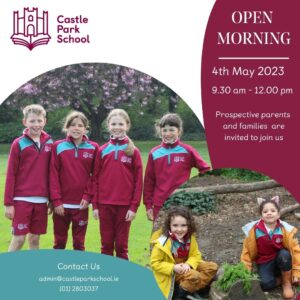 We invite you to join us on Thursday, 4th of May, for our next Open Morning at Castle Park School.
Discover the Vibrant Learning Environment at Castle Park School
Join us for our Open Morning, which will begin at 9:30 am and finish at midday. It's an excellent opportunity to visit our School, meet our pupils and staff, and get a sense of the vibrant learning environment we offer.
Schedule a Visit to Experience the Atmosphere and Enthusiasm of Our Pupils
Prospective parents who have registered their child(ren) may also contact the School to arrange an individual visit and tour with a member of the Leadership Team at a time of mutual convenience. While we welcome visitors all year round, we highly recommend that you schedule a visit during a typical school day to experience the atmosphere and enthusiasm for learning our pupils exhibit daily. It's a great way to get a feel for our School and discover how we inspire our pupils to achieve their full potential.
Arrange a Personal Visit or Register for the Open Morning
To arrange a personal visit to the School or to register your interest in attending one of our Open Mornings, call our Admissions Secretary at +353 (0)1 280 3037, e-mail admissions@castleparkschool.ie, or complete and submit the Enquiry Form available on our website. Our Admissions Secretary will be happy to assist you with any queries.
We look forward to welcoming you to Castle Park School.  Click here to read our Principal's Welcome message
If you would like to stay up to day with the latest news from our School, be sure to follow our School's Instagram Page