Sporting Achievements at Castle Park Private School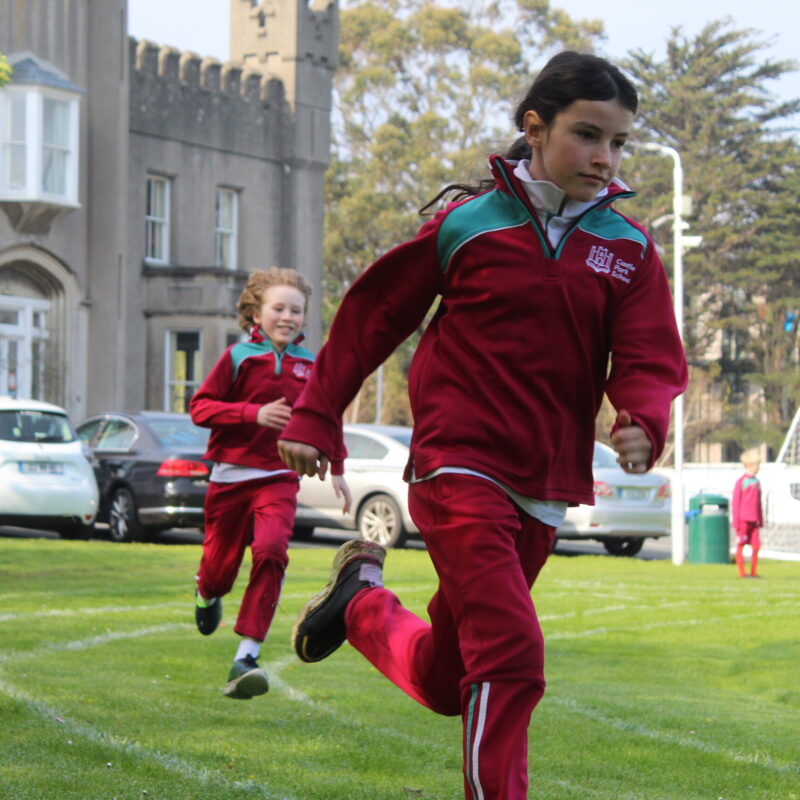 Sporting Achievements at AIJS Athletics Tournament
Castle Park celebrating sporting achievements at the AIJS Tournament:  Our private primary school boys' athletics team showcased their exceptional talent and skills at this year's AIJS Tournament at the Shoreline Leisure Centre in Greystones. They left their mark on the competition with outstanding performances and remarkable achievements. Let's look at the highlights of our athletes' accomplishments.
Impressive Individual Performances
The tournament witnessed exceptional performances from our young athletes, highlighting their dedication and hard work. Alexander Kelly emerged victorious in the 200m race, showcasing his speed and agility. Mikey Thurk displayed remarkable sprinting abilities and claimed the top spot in the 100m race. Another standout performance came from David Duffy, who secured first place in the 150m race, showcasing his determination and skill.
Excellence in Girls' Events
Our private primary school girls also made their mark in the tournament. Charlotte Bourke showcased her talent in sprints and the 400m race, putting in a commendable effort. Ella Tindale's impressive sprinting skills earned her a well-deserved second place in the highly competitive 150m sprint. Cecelia Sheldon and Avery Longstreet also displayed their talent and finished as runners-up in their respective events.
Sensational Relay Teams
Our relay teams stole the show with their impeccable teamwork and precision. After weeks of intensive practice, their hard work paid off as they showcased flawless relay changeovers. The Form IV and Form V Boys' relay squads emerged victorious in their events, demonstrating their exceptional skills and dedication. The girls' relay team also performed admirably, securing a commendable second place in the Form V event.
The Road Ahead
We want to congratulate all the athletes who represented our private primary school at the AIJS Tournament. Their dedication, passion, and perseverance have brought great pride to our school. As we celebrate this momentous achievement, we eagerly anticipate the Dublin Schools Athletics Championships, which will take place in Santry shortly. Our athletes have undoubtedly set a high standard, and we have complete faith in their ability to continue shining in future competitions.
Benefits of Sports Activities in a Private Primary School
Engaging in sports activities at a private primary school offers numerous benefits to children. Apart from the physical well-being achieved through regular exercise, sports also contribute to the overall growth and development of the child. Participating in athletics tournaments teaches children valuable life skills such as discipline, teamwork, and perseverance. They gain a sense of accomplishment and boost their self-confidence when they achieve their goals. The camaraderie and healthy competition fostered in sports help children build lasting friendships and essential social skills.
Conclusion
The outstanding achievements of our private primary school athletes at the AIJS Tournament are a testament to their hard work, talent, and dedication. We applaud their accomplishments and acknowledge the support and guidance they receive from our dedicated teachers and coaches. As we look ahead to the Dublin Schools Athletics Championships, we are confident that our athletes will continue to shine and make us proud. At our private primary school, we believe in nurturing well-rounded individuals who excel academically and thrive in the realm of athletics.
Keep up to date with everything that's happening at Castle Park through our Instagram Page and our Weekly Note & Reminders Newsletters