Primary School STEM Education – SFI Gold Award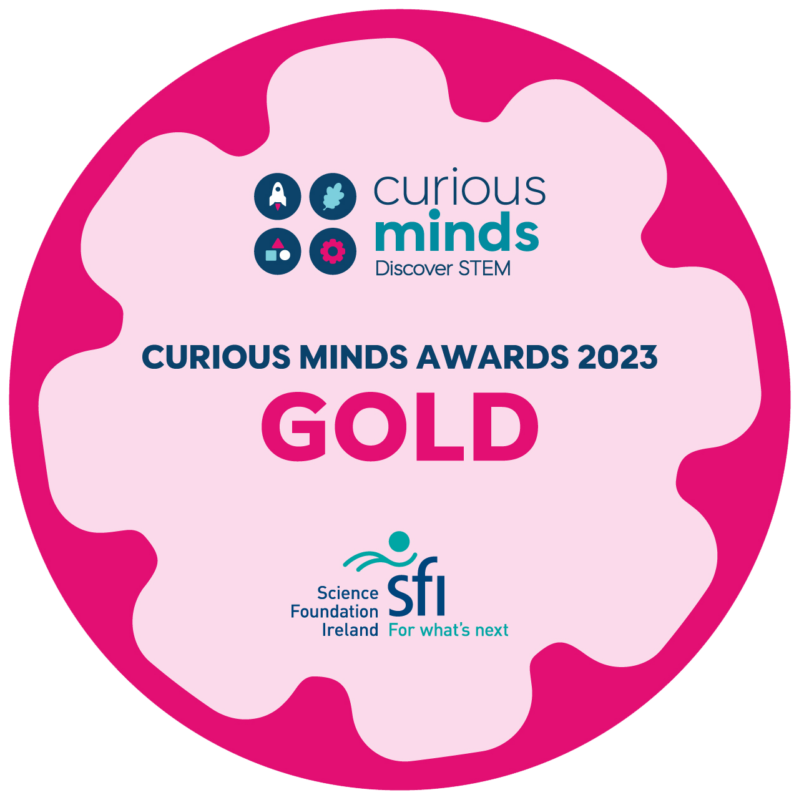 Castle Park Primary School STEM Education Program
Castle Park Primary School STEM Education Program is thrilled to have received the prestigious SFI Curious Minds Gold Award for the 2022/23 academic year. 
This award recognises our dedication to providing high-quality educational experiences in science, technology, engineering, and mathematics (STEM) to our young learners. 

It showcases our commitment to excellence and innovation in these subjects, and we are incredibly proud of this accomplishment.
The SFI Curious Minds Gold Award is a highly esteemed recognition for exceptional STEM education programs. SFI, a government agency in Ireland supporting scientific research and education, grants this award as the highest level of recognition.
Overview of Castle Park's STEM Curriculum
Our STEM curriculum at Castle Park Primary School aims to provide pupils with a comprehensive understanding of STEM subjects through a multidisciplinary approach. We integrate concepts from various fields to promote a holistic understanding of science, technology, engineering, and mathematics. Our young learners engage in hands-on activities, experiments, projects, and challenges that encourage critical thinking, problem-solving, and teamwork.
Castle Park Primary School's STEM Education Program has sparked a passion for STEM that extends beyond the classroom, helping our pupils recognise the significance of STEM in their daily lives and the world at large. The program's practical approach and real-life applications have nurtured critical thinking, problem-solving skills, and collaborative abilities. 
Receiving the SFI Curious Minds Gold Award is a testament to the hard work and dedication of Castle Park Primary School's Teachers. They have continuously strived to meet and exceed the criteria set by SFI, ensuring the program's excellence and innovation. Our teachers are highly qualified, passionate, and dedicated to our pupils' success. They continuously improve their teaching methods and stay updated on the latest advancements in STEM education. 
A note from SFI to Castle Park School:
"Congratulations – your school has achieved an SFI Curious Minds Award. We have evaluated your Log of Evidence and we are satisfied that you have met all the criteria for the Gold Award.
Your school has provided evidence of children's engagement with STEM in the following areas:
Science
Technology
Engineering
Maths
STEM Showcase
Here is some feedback on your Log of Evidence:
Congratulations to the teachers and learners at Castle Park School. You have earned an SFI Curious Minds Gold Award for a very good year's work. You have shown a wide and varied range of STEM activities.
You are doing great work with Tinkercad, and you are lucky to have such equipment. It is good to see outdoor work and that you are making use of a natural resource. The Maths activities are excellent, and it is good to see curriculum links with Art and Literature. Well done to everybody involved. Keep up the great work."
Congratulations to our teachers and learners for their hard work and dedication. Keep up the great work!
Keep up to date with everything that's happening at Castle Park through our Instagram Page and our Weekly Note & Reminders Newsletter