Summer Camp Places Available To Book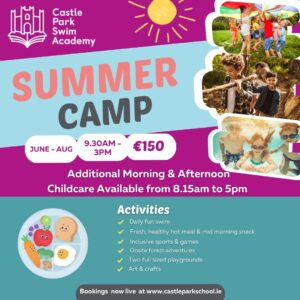 The Castle Park Swim Academy Summer Camp places are now available to book
A Fun-Filled Summer Camp Experience Awaits!
Summer is almost here, and we're excited to announce that bookings for our summer camp are now open! We have an exciting array of activities planned, including a fun swim, forest adventures, playground visits, a full-sized astroturf pitch for inclusive sports and games and a full-size sports hall to cool down and shelter from the sun when needed.
Inclusive Activities for All Children
Our summer camp is designed to be inclusive, allowing children to make new friends and learn new skills. Every child deserves a fun summer camp experience. Our experienced and enthusiastic staff will provide a safe and supportive environment for your child to learn, grow, and have fun.
Activities include:
A fun swim, daily
Sports
Games
Art & Crafts
Forest Adventures (on-site)
Storytime
Scavenger Hunts
Playground visits (on-site)
Additional Care Options for Busy Parents
We understand that parents have busy schedules, which is why we offer additional morning and evening care from 8.15 am to 5 pm.
Places available to book today
Don't miss out on the opportunity to give your child an unforgettable summer camp experience! Book your child's place today on our summer camp and let them discover new skills, make new friends, and have fun in a safe and supportive environment.
Keep up with us on Instagram to view more photos and videos of events in the School
View booking options here